Welcome to Core Athletix
ROCHESTER
SYRACUSE
CANANDAIGUA--FINGER LAKES
NEW YORK'S LARGEST ALL STAR CHEER GYM
585-244-2496
_________________________________
REMINDER, NO TUMBLING CLASSES SUNDAY 5/8 FOR MOTHER'S DAY. THERE IS OPEN GYM IN ROCHESTER 6-9 $5.00
FULL YEAR PREP TEAMS: ONE LOW PRICE
FREE TUMBLING CLINICS:
Monday 5/16 ages 9-under
Without back handspring 7pm-8pm:
Tuesday 5/17 Ages 9-under
With back handspring 7pm-9pm:
Wednesday 5/18 Ages 10-18
Without back tuck 6pm-7pm
With back tuck 7-9
Thursday 5/19 Ages 12-18
With jumps to tuck and layout or full
5pm-7pm LEVEL 5
Friday 5/20 All Ages
All Skill Levels
Open Gym
6pm-9pm
EVALUATION TIMES: Finger Lakes and Rochester May 21st
10am-11am: Ages 3-8
11am-1pm: Ages 9-12
1pm-3pm: Ages 13-18
Call Backs: Sunday May 22nd 10-3pm
(Time Given to Each Athlete Saturday Evening)
Mandatory Parent Meeting:
Sunday 5/15 12-1pm or 5-6 pm
Monday 5/16 6-7pm
SYRACUSE EVALUATIONS: MAY 20TH
Not only do our teams compete Nationally, we also compete locally, right in the Monroe County and surrounding areas!!!
Most recently, our Rochester, Syracuse and Finger Lakes gym competed locally at Brockport College and took home more awards than any other program competing.
Core Athletix won Level 2, Level 3 and Level 5 Grand Champion Awards along The Only Paid US Finals Bid, Highest Score of the Day and multiple First Place Bids to US Finals.
Core Athletix, Black Diamonds, the only NYS Medium CoEd Level 5 team to compete at Worlds; won 4th place in Prelims and won the honor of competing on Day 2!
Four Core Athletix Teams won the prestigous honor to compete at The Summit in Orlando Florida. All four teams ranked in the top 20 of their division, with Black Onyx making it to Finals and winning 7th place in the US!!!
At Core Athletix we strive to not only be the best, but compete against the best, inside and outside of our area by splitting our competition season into both local and travel competitions. Splitting competitions not only allows for a fun and competitive environment for our athletes, but also a reasonably priced program for our parents. Each competition is carefully selected to give the athlete the opportunity to be successful, but also challenged. It is not our programs intent to simply WIN. While we love to do that, we also love to challenge and grow our athletes through National Competitions that stretch their talent and limits!
OPEN GYM FRIDAY AND SUNDAY 6-9 IN ROCHESTER ($5.00)
OPEN GYM SUNDAY'S 5-7 IN FINGER LAKES ($5.00)
STUNT AND TUMBLE CLASSES CLICK HERE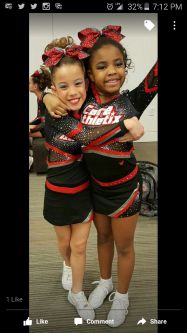 NFINITY SHOES AND GEAR
We have Nfinity and Varsity Shoes!!!!!!